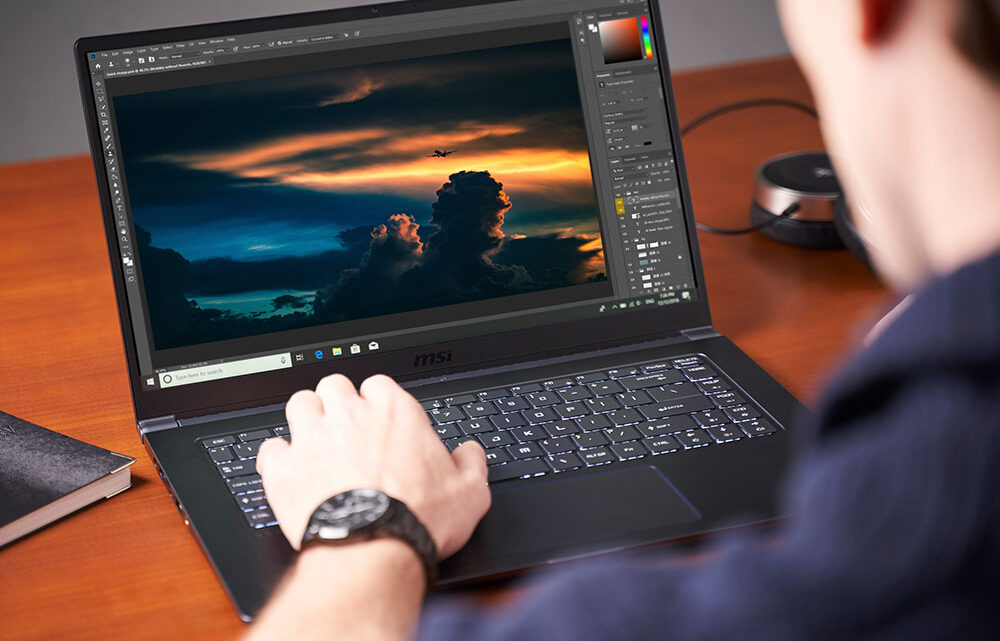 April 29, 2019
MSI PS63 Modern
Best Video-Editing/Gaming Laptop Under $1000 in 2020
You want to game or edit 4k video, but you need a laptop. So you decide to shop online for one. But after sorting and fiddling with the filters for a while you notice a few things;
1. Most machines that can get the work done are at the top end of the price spectrum.
2. The affordable ones are gaming laptops that will kinda struggle to edit in 4k, are too bulky, not appealing to the eye if you care about that and worst of all, they rock a battery that is at best below average.
3. The affordable laptops which are light and thin are not beefy enough to get the work done.
So they are either way expensive or the hardware is not powerful enough and you have to make one sacrifice; a sacrifice in terms of price and performance, a sacrifice that you don't want to make, a sacrifice that might haunt you. Or do you?
In this post, we are changing that narrative. I'm coming at you with a laptop that cuts it at a budget of a thousand dollars. Is it possible at that price? you ask. Well, stick around friend coz the answer that you seek is in the post you are reading.
This is our bottom line:
1. A powerful CPU in terms of cores and clocks.
2. Discrete graphics and not an entry-level one like the MX250 or the sort which we all know ain't powerful enough for creative work and especially video editing, let alone gaming.
3. Lastly, portability in terms of weight and size. (we'll only consider below 4 pounds or 1.81 kilograms)
First off, I'd like to point out that the MSI PS63 Modern is not a new arrival and it's been available for quite some months. It's a laptop geared towards content creators but it should game when needed. With that said, let's go over what we set out to accomplish around here. First off, let's cover this beauty's CPU and GPU.
These are arguably the most important parts when it comes to video editing because they will be the biggest factors in how quickly your laptop will edit and render video. It's powered by an Intel Core i7-8565U which is a reasonably powerful 8th Gen CPU. This is a quad-core Whiskey Lake, U series CPU with a TDP of only 15 watts. It clocks in at a base frequency of 1.8GHz and boosts up to an incredible 4.6GHz.
This CPU is paired with an NVIDIA GeForce GTX 1050 Ti (Max-Q) GPU which has 4GB GDDR5 Video Memory. The efficient 15W Ultrabook CPU and the Max-Q GPU enables the MSI PS63 Prestige to get superb battery life. This is one of the few tricks that this machine has up its sleeves to make it one of the best laptops you can buy for less than $1000. This is so especially for creative types who want to render graphics and videos and gamers.
Now, this is an interesting combination because most laptops at this price point are usually paired with a higher-watt processor.
Moving on to the storage and memory, we've got 16GB DDR4 running at 2666MHz in single-channel mode, and a 512GB M.2 SSD NVMe drive on PCIe Gen3 interface. On connectivity, it features an 802.11ac adapter supporting both 2.4 and 5GHz wifi bands with Bluetooth 5 integrated. Windows 10 comes preinstalled in the MSI PS63.
MSI partnered with the discovery channel to design the PS63 Modern which lives up to its name literally in terms of modernity. It comes in variants but in this post, we will be focusing on the PS63-008 model because of the price factor. AS MSI states it, its truly crafted in a unique texture to be discovered and is Inspired by the infinite universe. It's finished with deep carbon grey and a brilliant galaxy blue trim, encasing the laptop's edges. The minimalist design is just superb.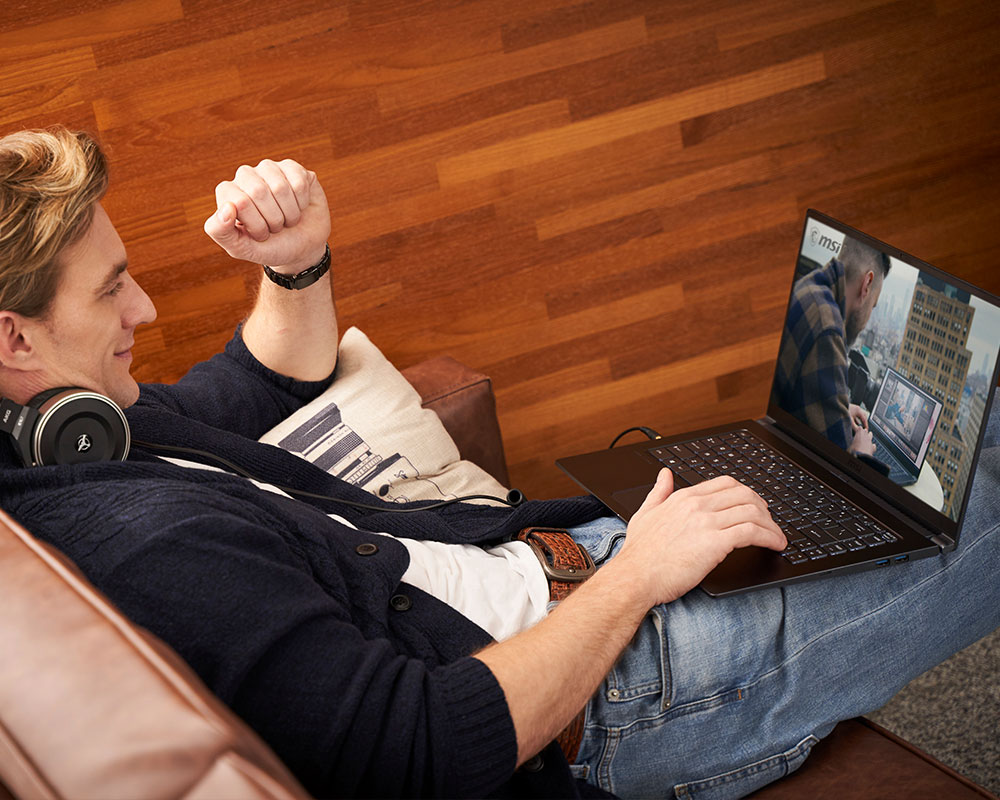 MSI PS63 ModernIt's got thin 0.22 inch bezels with a front-facing 720p camera, an 86% screen-to-body ratio and a drop-down hinge design. It rocks a backlit compact keyboard which resembles the one we saw on the MSI GS65 Stealth. It's not lit in RGB. Its got a huge trackpad which is central to the body and has a glass cover on top of it. It should work well with windows precision drivers on windows 10 for those nice gesture controls. The touchpad has a fingerprint sensor built into it and windows hello should work just fine.
Crafted in an ultra-light and slim aluminium chassis with a premium texture, the Modern is made portable and stylish. The other material used on this laptop is polycarbonate. These materials enable it to achieve a minimal weight of only 1.65 kilograms or 3.6 pounds. This is very important if you are always on the go.
On the bottom side, we've got two large intake grills, as well as the speaker cut-outs. Hot air is exhausted from the grills at the back of the device.
The PS63 uses a pair of 2-Watt bottom-firing speakers.
IO
On the left side, it houses a 3.5mm headphone audio jack which doubles as a mic jack. Next to it is a USB Type-C 3.1 (Gen. 1) port and a second USB 3.1 (Gen. 1) port which supports Qualcomm Quick Charge 3.0. This one can charge your phone without even having to turn on the laptop. On the far end is a HDMI connector which pushes a maximum of 4k resolution at 30hz next to a barrel charging plug,
Switching over to the right, there are two more USB Type-A ports. One is a 3.1 (Gen. 1) and the other one a 3.1 (Gen. 2). Lastly, there's a MicroSD port which I find a little bit frustrating considering this laptop is geared towards creators. I'm assuming that most creators work with media files and use full-size SD cards for their cameras instead of micro SD cards. This may not be a big concern for gamers though.
Display
MSI PS63 Modern is equipped with a Full HD 15.6-inch matt IPS level anti-glare panel. The screen ratio is 16:9, and it packs a pixel density of 142 pixels per inch. The IPS panel will ensure you get those nice and wide viewing angles.
The Tailored Viewing Modes which come preinstalled in this machine give you the best picture for whatever you are viewing. With the True Color Technology, you are presented with colour accuracy close to 100% sRGB allowing you to select different modes for you to get the best scene.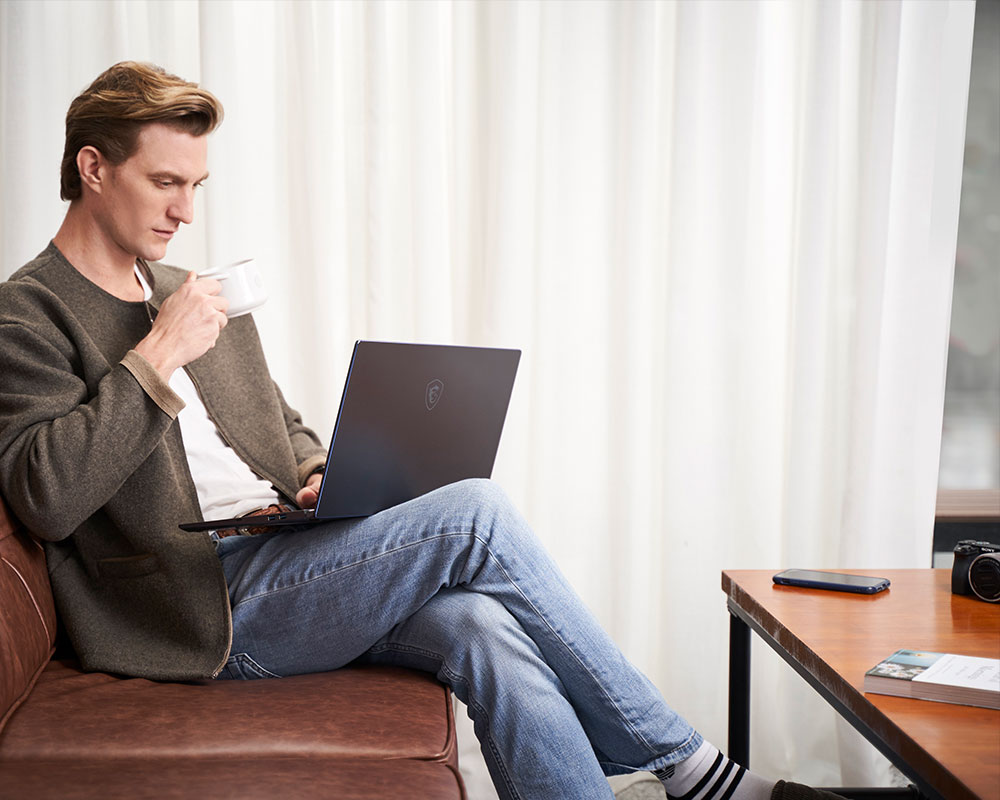 Battery
The PS63 packs a decent amount of juice in its monstrous 4-cell, 82Wh battery. MSI claims that you can get up to 16 hours of battery life.
Note that CPU and GPU intensive workloads will drain any laptop quite fast. With that said, you should still be able to get about 12 hrs from the battery. This of course will depend on your usage characteristics such as screen brightness. It is worth to mention at this point that the screen is not very bright on this machine at 315 nits. This should comfortably last you an entire workday though.
The new compact Prestige 90-watt power adapter compliments the thin design of the laptop. It fits perfectly in your bag allowing you to lessen your bulk when you're on the go, or when packing.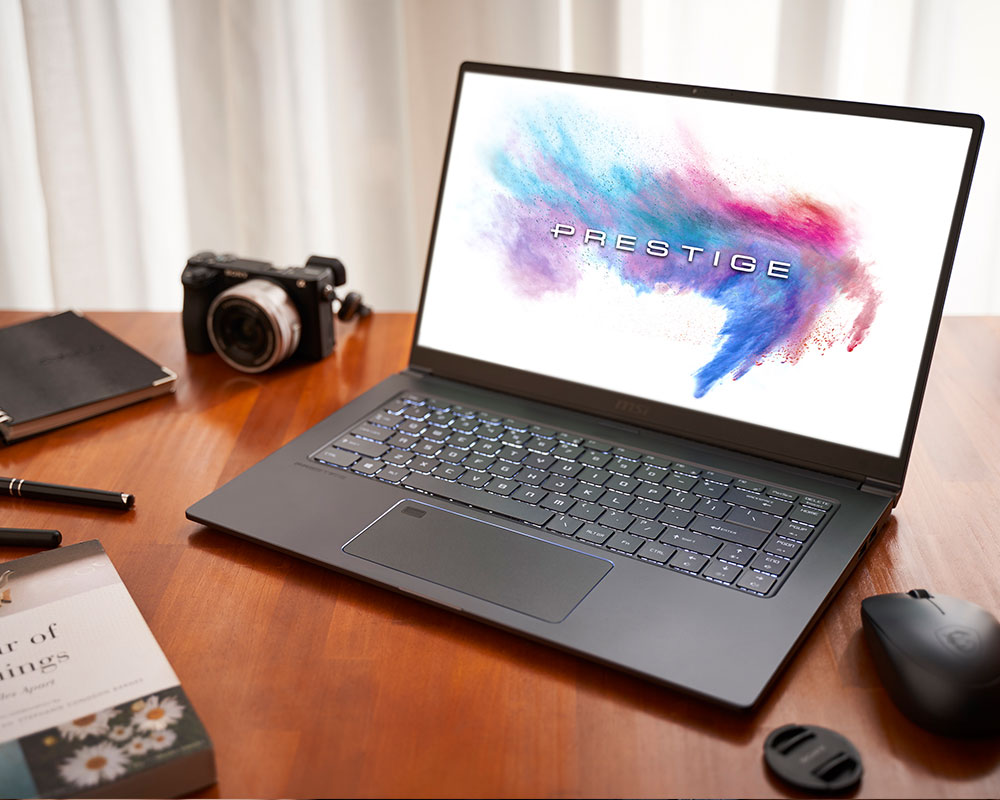 Pros
The pros of this laptop include a powerful processor, a solid GPU from Nvidia, good battery life, a high sRGB coverage of the display, a backlit keyboard which is equipped with a numeric keypad and a stylish design with a thin and light body
Cons
1. Many complain that it gets very hot under load. Blowing hot air towards the screen may cause problems with the display in future. This threatens the longevity of the display since the heat blows right at it, at any point of hard work. You should be able to tweak this by undervolting the GPU to keep the thermals in check.
2. The other con is a Micro SD port instead of a full-sized SD card port. We can go around that by getting an SD card reader or an adapter which should retail for less than $10 on Amazon.
There's also the lack of USB Type-C charging and Thunderbolt 3. This means you cannot connect the PS63 to an external GPU or use Thunderbolt 3 external drives.
The lack of PCIe Gen 3 support on the extra M.2 slot may also be a complaint to some. At this price point maybe we can forgive MSI for this. I wouldn't consider these to be deal-breakers.
You should consider running memory in dual-channel configuration to get that extra leap in performance. For seamless video editing, you should be able to buy an extra 16GB RAM stick from Amazon for about 80 bucks. This will still be within our $1000 budget.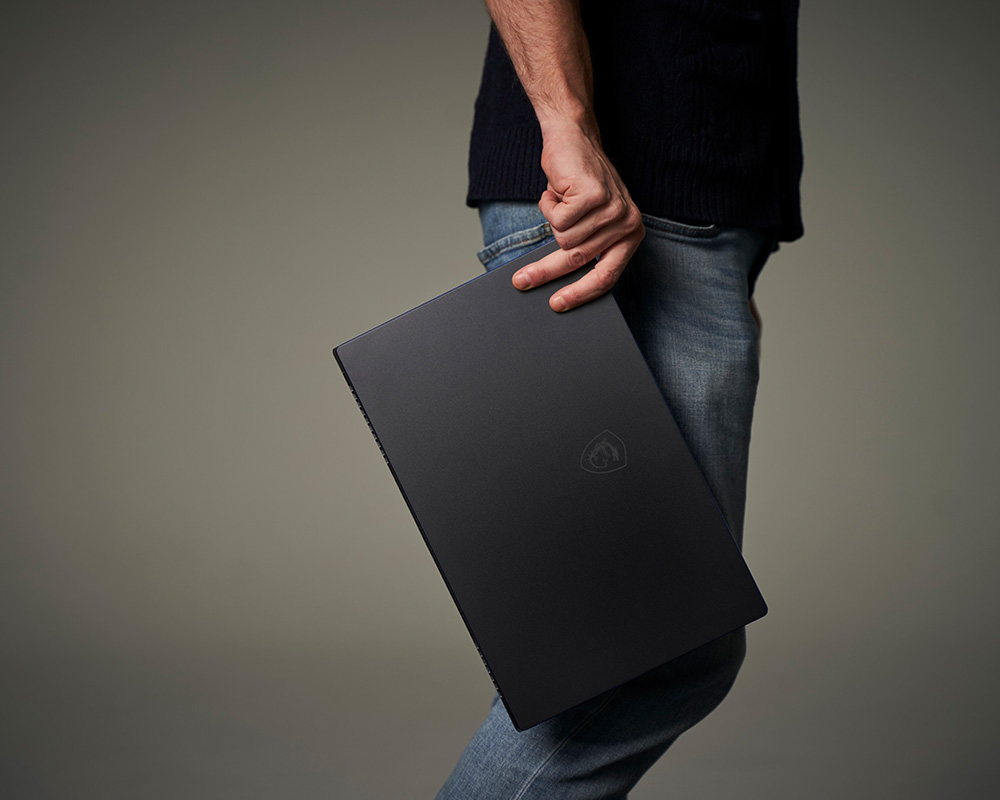 Verdict
Would I recommend this laptop? There's a lot to like about this unique laptop. Its cracking value for money, with even the most affordable variant packing plenty of performance. With a quad-core processor, a full HD display, discrete graphics and descent storage and memory to handle video editing, it's one of the best laptops you can get for the price.
MSI did a great job in matching the hardware for this laptop. Whether you are a gamer, editing video or photos or doing office work, this guy fits perfectly into your avenue. In addition to all that, the product meets the MIL-STD 810G military standard for reliability and durability. As they note; "MSI always strives for professionalism with world-leading technology."
Comparison with other laptops under $1000
Creators
Now with that in mind, I consider the MSI PS63 to be one of the best laptops for creative work because you get unrivalled computing performance at that price point. This machine comes with a Creator Center preinstalled which is built to optimize the PS63's performance. To achieve this goal, the program recognizes when you're using certain software like Adobe Photoshop or Premiere Pro and automatically configures the settings so that you can have the best experience on the program.
The Modern also lets you monitor the CPU, GPU, RAM, disk usage, the sound profile, touchpad DPIs and display colour modes. An app for changing display-colour modes and a program for updating your laptop's drivers are also included. This laptop will render 4k video without much sweating. But if you are playing around with 6k and 8k footage, you should consider a system that packs more horsepower unless you want a slow workflow.
Gamers
If you are willing to sacrifice some graphics power for a truly thin-and-light machine with decent battery life, you definitely won't go wrong with the MSI PS63 Modern as a gamer. Of course, you don't expect this Max-Q GTX 1050Ti GPU to perform like the non-Max-Q version. That said, you should be able to achieve respectable frame rates on power-hungry titles like GTA 5, PUBG and Rise of The Tomb Raider at medium to high settings. Most PCs geared towards creation can work as a competent gaming PCs.
So guys, instead of complaining about the high cost of creator and gaming laptops, maybe we should ask a different question; "what can we buy for the price?"
Now, tell me down in the comments guys, what are your thoughts this laptop? Would you get it for content creation or gaming? Why and why not? What do you like and dislike about it? Are there any competitors to the PS63 at this point on the price spectrum?
But there you have it, folks. Hopefully, this was helpful in you deciding whether this laptop is right for you. There may be more options out there but this is my favourite one for the $1000 price point. I hope you guys liked this post. Don't forget to share your thoughts. That's all I have for you. Subscribe to our newsletter if you aren't already. See you in the next one. Until then, take care.